Start of main Content
Spa Facilities - Ards
Enhance your mental and physical wellbeing 
Vitality Pool
Your wellbeing has no limits
Our vitality pool is a large, luxurious pool, fully equipped with therapeutic air and water jet features. It typically operates at a temperature of 38oC which means that the water forms an all-encompassing element for health and relaxation, with highly beneficial results for your body and mind.
The Vitality Pool combines a number of water features, including swan-neck fountains, air loungers and water jets. These provide unique physiological benefits, including the cleansing and detoxification of the skin, relieving tired and aching muscles, improving blood circulation and inducing deep relaxation.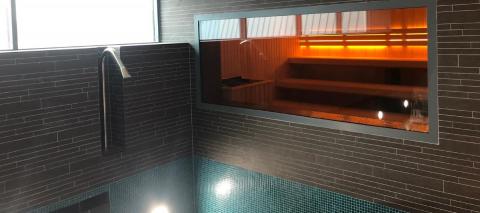 Sauna
A hot haven of relaxation
Did you know that Northern Ireland is dotted with ancient 'sweat houses' dating back hundreds of years? Clearly our forebears recognised the curative power of hot, moist air. The new Sauna at Ards Blair Mayne Wellbeing and Leisure Complex elevates this ancient therapeutic treatment to undreamt of levels.
Saunas are traditionally used to relax and ease muscle tension, as well as boost circulation and improve the immune system. Your sauna treatment is usually followed by a cold shower, and the alternation of heat and cold encourages a healthy flow of blood through the veins. This helps to flush out toxins from the body. The hot and cold treatment is also believed to help one's immune system – it's said that regular sauna users rarely suffer minor infections and colds.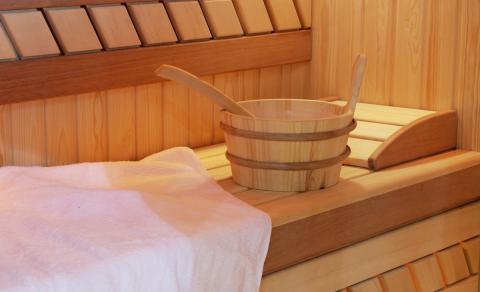 Sanarium
Purify the body, pacify the mind
A sanarium is designed to be cooler than a sauna and less humid than a steam room, and for some, a more comfortable environment to sit in.
Deep relaxation, detoxification and general wellbeing are key reasons for the enduring popularity of sanariums. The gentle warmth of the sanarium causes your muscles to relax and you may well find that any limb and joint pain is noticeably reduced. The mild, circulating heat can also help reduce high blood pressure and alleviate circulation disorders.
Daily use of the Sanarium can even train your cardiovascular system to become stronger and can help strengthen your immune system to help prevent getting common colds and infections.
Aroma Steam Room
Enter a world of serenity
Would you like to relax in the luxurious aroma of Peppermint or Rosemary, as your body purges the toxins from your skin and muscles that make you look older than your actual age? Welcome to the Aroma Steam Room at the Spa, where you are introduced to a whole new sensory experience. 
The combination of gentle heat and warm, moist team, infused with natural aromatherapy essences creates a totally relaxing haven where you can fully indulge your senses and rest the your mind, even just for a little while.
Salt Room
Renew, revive, replenish & restore
The curative effects of bathing in salt water have long been recognised. Our Salt Room takes this to a new level by enabling you to inhale salt-infused therapeutic steam. Halotherapy – the breathing in of salty air – has many health benefits, with positive impacts on allergies, asthma, sinusitis, eczema, bronchitis, hay fever and many other respiratory and skin conditions. Non-sufferers often find that salt inhalation helps with sleep.
Some people experience minor side effects from inhaling salty air, such as coughing.  However, this is a good sign, it shows that the salt is loosening mucus deep in your lungs. Your skin might react a little but this should disappear fairly quickly.
One quick tip - rinse your swimming costume thoroughly after your session in the Salt Room, as the salt may cause it to fade.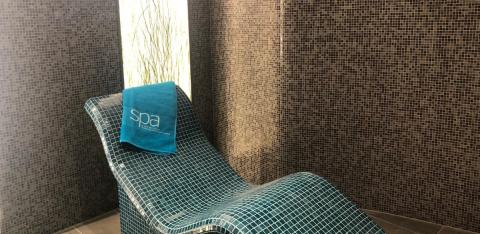 Relaxation Area
Your escape, far from the madding crowd.
Want to get away with your favourite page-turner? Just fancy some time to yourself? Our relaxation area is the perfect way to unwind and get into a calm frame of mind before your sauna or other treatment, or enjoy the soporific effects of the session you've just had.
The room is devoted to total relaxation, with just the sound of a cascading waterfall in the background, and heated loungers so you can lie down and put your feet up. You'll emerge, recharged, invigorated and ready to tackle the day with a fresh mind.
Spa Changing
The changing rooms at the Spa reflect the outstanding level of fit and finish to be found throughout the entire Spa suite.  The male and female changing rooms are access controlled, with independent entrances and are fully equipped with all amenities, including hair dryers and toiletries – shampoo, conditioner, shower gel and hand soap/cream. You are also able to gain immediate access to and from the swimming pools via the Spa area.
Please note that on Tuesday's the Female Spa changing rooms will open from 9am and on Thursday's the Male Spa changing rooms will open from 9am.